Shop with Local Businesses who Partner with NHA
NHA has created several opportunities and partnerships, allowing you to support homeless animals in our community — simply by doing what you do!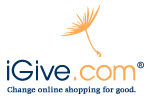 Select Nashville Humane Association as your designated charity and up to 26% of the proceeds for each purchase you make on iGive goes to support the animals in our care. With over 1,000 stores and hundreds of exclusive coupons, iGive is the smart way to shop this. Just click on the icon and register NHA as your charity of choice – then start shopping!
Shop at Kroger and support NHA! Kroger's Community Rewards Program makes it easy – every time you check-out and swipe your Kroger Plus Card, Kroger will donate a % of the proceeds to NHA. Just visit krogercommunityrewards.com and register Nashville Humane Association as your designated charity on your Plus Card today. Happy Shopping!
FriendshipCollar will donate 10-15% of your purchase to NHA!  Just click here and shop knowing you're making a difference in the lives of homeless animals!
Use the promo code NHAFAMILY to save 15% on your purchase!
Support NHA by shopping at smile.amazon.com! Choose Nashville Humane as your organization of choice and Amazon will donate 0.5% of the price of your eligible AmazonSmile purchase.
Donate your spare change to Nashville Humane with the Coin Up App! Download the free app, select Nashville Humane, link your bank card and set a monthly limit.  Watch spare change from everyday purchases make big change for Nashville Humane!
Help us provide all our dogs with Kuranda ShelterBeds!  These beds are Made in the USA and are specifically designed to resist chewing and digging. These beds provide essential comfort to our pets — helping them sleep better, reducing stress behaviors and increasing their chance for adoption! Best
of all, the beds are easy to clean. That means less time cleaning runs, less time in the laundry room and more time walking dogs and playing with cats. To donate a bed, visit Nashville Humane's wish list at https://donate.shelterbeds.org/394541.
Purchase items from our Wish List – visit our WISH LIST page.
Host a fundraising event for Nashville Humane Association
Whether it's a birthday party, anniversary celebration, or simply a weekend picnic, you can turn your event into a fundraiser for NHA!  Invite guests to purchase items from our Wish List or to make monetary donations to NHA, in lieu of presents.  You can create an online fundraising page here or checks can be made payable to: Nashville Humane Association, 213 Oceola Avenue, Nashville, TN 37209.
Plan a Community Fundraising Event benefiting NHA: please contact Lindsay Keitel, Events & Outreach Coordinator, or Kenneth Tallier, Media / PR, at (615) 352-1010.
We're here to help you make your event successful, rewarding the animals in our care.